The Elemental Windflowers Round
by J. Carlstad 2009
Whirling, twirling, 'round they go
Whirling, twirling, 'round again...
Blades of silver, breezes blow
Whirling, twirling, see them spin! (repeat)
Bear Mountain Wind Park - photo by Christine Wandling
Wind Energy With A New Twist!
Elemental Windflowers is a song about the newest "green" energy project in our area... The Bear Mountain Wind Park, located on a ridge adjacent to Dawson Creek, BC.
This chorus, by NANA's Janina Carlstad, is but a part of the whole song, and may be sung or played as a round.
The
Peaceful Night Flute Circle
of Bonanza School played
Elemental Windflowers
in their music classes and for the Alberta Arts Day Challenge (September 18-20). One group of 25 students formed the shape of the three blades and sung the round from within that shape. The other group of 12 students forms the second triad and plays their flutes to accompany the song... Awesome!
We find this creative performance to be just one way of reflecting upon the vibrant nature of our people and our land as we connect earth elements to generate power and address some of society's needs today.
Bear Mountain Wind Park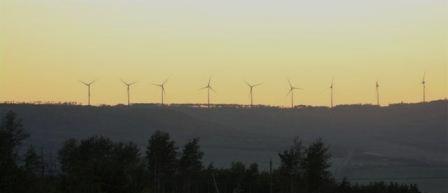 Photo by Mary and Charlie Parslow